American Hip Institute Grand Opening Press Release
Hip workshop @Asweatlife led by Dr. Benjamin Domb, Director of American Hip Institute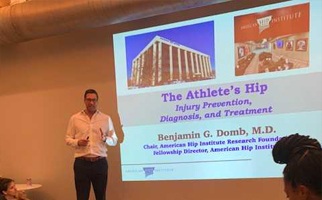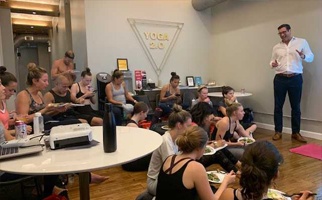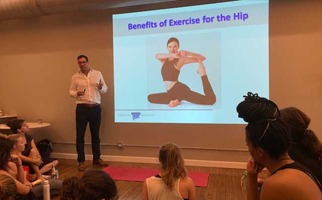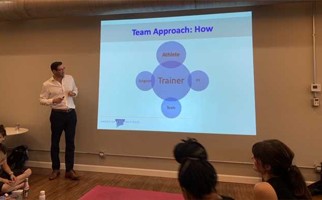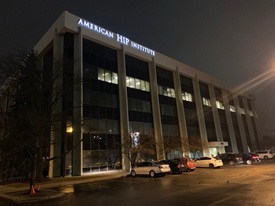 February 11, 2019
Dr. Benjamin Domb Announces the Opening of the American Hip Institute
Chicago O'Hare Clinic
Setting a new standard for medical specialization, the American Hip Institute (AHI) is the first clinic in the nation dedicated exclusively to cutting edge, minimally-invasive treatment of the sports injuries and arthritis of the hip. Dr. Benjamin Domb, Founder of AHI, leads a team of expert hip surgeons at the new state-of-the art facility. Dr. Domb also continues to serve as Chair of the AHI Research Foundation, a charitable organization devoted to medical research and education.
"The American Hip Institute is committed to being a resource for patients from across the nation with hip pain, and for the orthopedic surgeons that treat them. Through research, education, and collaborative treatment of complex cases, together we can help patients heal their hip problems" said Dr. Domb, who is internationally known for his surgical skill and his treatment of high-profile professional athletes.
The surgeons at AHI have performed over 10,000 hip surgeries, emerging as leaders and educators in Hip Arthroscopy, Robotics, Minimally Invasive Surgery, and Stem Cell treatments. The AHI Hip Arthroscopy procedure developed by Dr. Domb led to a 97% reduction in complications from entry into the joint. The published success rates of their technique have set the global standard for treatment of labral tears and hip impingement. Dr. Domb and AHI were the first in the nation to perform outpatient Robotic Hip Replacement. Their Robotic Replacement technique led to a 94% reduction in errors in implantation.
AHI doctors have treated numerous professional athletes from the NFL, MLB, NBA, and WNBA, Olympians, and Division I athletes. The AHI team takes pride in caring for each patient like a professional athlete, using their unique procedures to restore patients to top-level performance.
"I hope that my passion for advancing the field of Hip Arthroscopy will contribute to AHI's mission to provide highly specialized care. It has been a privilege to serve for over a decade alongside my surgeon colleagues at Hinsdale Orthopedics. In this next phase, I look forward to working with the talented team of surgeons and researchers at AHI as we continue to innovate cutting edge procedures, and to collaborate with surgeons across the country to make the AHI procedures available to the public."