Press Release
QUALITY OF LIFE FOR PATIENTS IMPROVES WITH DIRECT ANTERIOR APPROACH
Study by American Hip Institute & Orthopedic Specialists
Proves Benefits of New Approach to Hip Replacements
Des Plaines, Ill. (December X, 2019) – A recent study conducted by the American Hip Institute & Orthopedic Specialists (AHI), the nation's leader in innovative treatment options for the hip, has proven the superiority of the direct anterior approach (DAA) compared to the more common posterior approach (PA) for total hip arthroplasty (THA), or hip replacements.
The DAA has gained popularity in recent years in the medical field, and for good reason. Experienced surgeons and patients alike have praised the benefits – more rapid recovery, less risk of instability and overall superior quality of life outcomes – via industry seminars, surgeon-to-surgeon mentorships and online discussions. These benefits have been largely anecdotal until now; the results of the recently published study proved that the DAA results in a superior quality of life for THA patients.
AHI Founder Dr. Benjamin Domb, M.D. and his team of surgeons conducted this two-year study of 410 patients to compare outcomes of the DAA to the PA, which has historically been the industry standard approach for hip replacements. The PA requires taking down muscles and tendons to access the hip joint, resulting in lengthy recovery time and prolonged precautions due to risk of instability. Alternatively, the DAA is less invasive and spares these muscles by performing the surgery through the anterior, or front thigh.
"The DAA requires a thorough understanding of hip joint anatomy and pathology," said Dr. Domb. "As surgeons, we at AHI have not only mastered this understanding, but have further helped pioneer the approach with the use of cutting-edge, robot-assisted technology to make it that much less invasive. We are looking forward to getting more patients feeling pain free quickly and safely thanks to the DAA."
DAA vs PA Study: Methods
The study closely monitored and collected data from 410 patients who underwent hip replacements between July 2008 and July 2016; 205 using the DAA and 205 using the PA.
Patients were compared 1:1 based on age, sex, body mass index and laterality.
Outside of the different surgery approach, the two groups' recovery was measured identically throughout a two-year follow up period.
Measurements were based off of patient physicals, visual examinations and patient satisfaction via the Harris Hip Score (HHS), Forgotten Joint Score (FJS), Veteran RAND 12 Mental (VR-12 Mental), Veteran RAND 12 Physical (VR-12 Physical), 12-Item Short Form Survey Mental (SF-12 Mental) and 12-Item Short Term Form Survey Physical (SF-12 Physical).
DAA vs PA Study: Results + Conclusions
Both the DAA and PA groups reported favorable outcomes at the end of the two-year follow up.

The DAA and PA groups had comparable HHS (p = 0.0737) and FJS-12 (p = 0.2900).

However, the DAA group's quality of life measurably surpassed that of the PA group. Patients in the DAA group felt better sooner and physically recovered faster as a direct result of this minimally invasive method of surgery that prioritizes rapid return to function.

The DAA group had higher scores at final follow-up for VR-12 Mental (p = 0.0236), SF-12 Mental (p = 0.0393) and SF-12 Physical (p = 0.0391).

While the short-term benefits of the DAA have been proven, there is still research to be done on the long-term benefits; something AHI hopes to study in years to come.
To learn more about all the cutting-edge techniques in Hip Arthroscopy, Robotics, Resurfacing and Regenerative Medicine offered by AHI, or to schedule a consultation with Dr. Domb, visit www.americanhipinstitute.com.
About the American Hip Institute & Orthopedic Specialists
Founded by Dr. Benjamin Domb M.D, the American Hip Institute & Orthopedic Specialists (AHI) is the first clinic of its kind dedicated exclusively to providing cutting-edge, minimally invasive treatments for hip pain to restore patients from around the globe to top-level performance. In doing so, AHI sets a new standard for medical specialization in the orthopedic field through advanced research, education and treatments.
AHI transforms the field in being the resource for treating hip pain, continuously seeking to educate, innovate and offer the most progressive hip joint treatments in the nation. The clinic represents the next generation of orthopedic evolution in the hip category, delivering uncompromised excellence to the wide variety of clients suffering from hip injuries from consultation through treatment and beyond.
For more information or to schedule a consultation with Dr. Domb, visit www.americanhipinstitute.com or call (833) USA-HIPS.
Hip workshop @Asweatlife led by Dr. Benjamin Domb, Director of American Hip Institute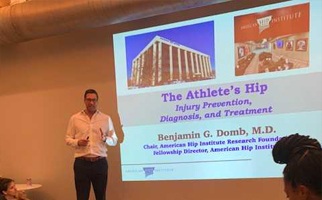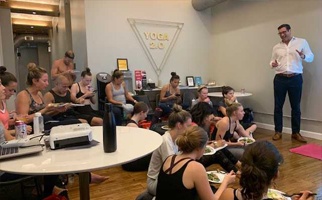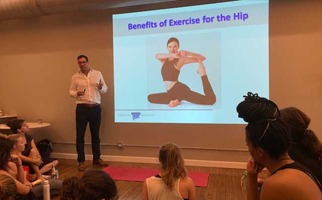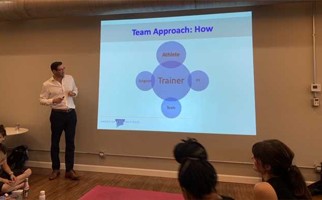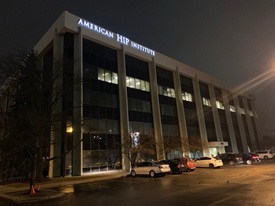 February 11, 2019
Dr. Benjamin Domb Announces the Opening of the American Hip Institute
Chicago O'Hare Clinic
Setting a new standard for medical specialization, the American Hip Institute (AHI) is the first clinic in the nation dedicated exclusively to cutting edge, minimally-invasive treatment of the sports injuries and arthritis of the hip. Dr. Benjamin Domb, Founder of AHI, leads a team of expert hip surgeons at the new state-of-the art facility. Dr. Domb also continues to serve as Chair of the AHI Research Foundation, a charitable organization devoted to medical research and education.
"The American Hip Institute is committed to being a resource for patients from across the nation with hip pain, and for the orthopedic surgeons that treat them. Through research, education, and collaborative treatment of complex cases, together we can help patients heal their hip problems" said Dr. Domb, who is internationally known for his surgical skill and his treatment of high-profile professional athletes.
The surgeons at AHI have performed over 10,000 hip surgeries, emerging as leaders and educators in Hip Arthroscopy, Robotics, Minimally Invasive Surgery, and Stem Cell treatments. The AHI Hip Arthroscopy procedure developed by Dr. Domb led to a 97% reduction in complications from entry into the joint. The published success rates of their technique have set the global standard for treatment of labral tears and hip impingement. Dr. Domb and AHI were the first in the nation to perform outpatient Robotic Hip Replacement. Their Robotic Replacement technique led to a 94% reduction in errors in implantation.
AHI doctors have treated numerous professional athletes from the NFL, MLB, NBA, and WNBA, Olympians, and Division I athletes. The AHI team takes pride in caring for each patient like a professional athlete, using their unique procedures to restore patients to top-level performance.
"I hope that my passion for advancing the field of Hip Arthroscopy will contribute to AHI's mission to provide highly specialized care. It has been a privilege to serve for over a decade alongside my surgeon colleagues at Hinsdale Orthopedics. In this next phase, I look forward to working with the talented team of surgeons and researchers at AHI as we continue to innovate cutting edge procedures, and to collaborate with surgeons across the country to make the AHI procedures available to the public."