Benjamin G. Domb, M.D.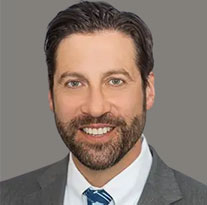 Benjamin G. Domb, M.D.
Dr. Benjamin Domb is a specialized hip surgeon in Chicago with expertise in sports medicine and hip arthroscopy. He graduated with honors from Princeton University, and was at the top of his class at John Hopkins School of Medicine, the #1 medical school in the country. He has been rated amongst the Top Doctors in the USA by the NY Times, US News & World Report, and Castle Connelly. He is the founder and Chair of the American Hip Institute Research Foundation, a non-profit organization dedicated to educating, innovating, and improving the minimally invasive treatment of hip injuries.
Dr. Domb has treated numerous professional, Olympic, and elite level athletes, including NFL, NBA, and NHL players. He has cared for the Los Angeles Lakers, Dodgers, Kings and Galaxy, and served as Head Team Physician for the WNBA Chicago Sky. Dr. Domb is amongst the most experienced Hip Arthroscopy surgeons in the world, and was the first surgeon in the United States to perform outpatient Robotic Hip Replacement. He is the inventor of cutting edge techniques in hip arthroscopy to repair injuries such as a torn labrum, impingement, and gluteus medius tears. Dr. Domb treats patients from across the country who travel to Chicago for their surgery, and he takes pride in caring for every patient like a professional athlete.
Education:
B.A., Princeton University, Princeton, NJ
M.D., Johns Hopkins School of Medicine, Baltimore, MD, #1 medical school in the United States
Residency, Orthopedic Surgery, Cornell University Hospital for Special Surgery, New York, NY, #1 Orthopedic Surgery Residency in the United States
Fellowship, Sports Medicine Surgery, Kerlan-Jobe Orthopaedic Clinic, Los Angeles, CA
Fellowship, Hip Arthroscopy and Joint Preservation

Nashville Sports Medicine & Orthopaedic Center, Nashville, TN
Hospital for Special Surgery, New York, NY
Schulthess Klinik, Zurich, Switzerland
Steadman Clinic, Vail, CO
Board Certification:
Orthopaedic Surgery
Certified Independent Medical Examiner (ABIME)
Areas of Specialty:
Sports Medicine, Arthroscopic Surgery of the Hip
Reconstructive Surgery of the Hip (Anterior Approach, Robotic-Arm Assisted)
Cutting-Edge Regenerative Medicine (Stem Cell, PRP)
Injuries of the Hip, Knee, and Shoulder
Current & Previous Appointments:
Founder and Medical Director, American Hip Foundation (AHI)
Chair, American Hip Institute & Orthopedic Specialists Research Foundation (AHIRF)
Clinical Faculty, University of Chicago
Attending Surgeon, Hinsdale Orthopaedics
Director of Orthopaedic Surgery, Adventist Hinsdale Hospital
Head Team Physician, Chicago Sky
Head Team Physician, Hinsdale Central High School
Assistant Team Physician, Los Angeles Lakers
Assistant Team Physician, Los Angeles Dodgers
Assistant Team Physician, Los Angeles Kings
Assistant Team Physician, Los Angeles Galaxy
Neutral Second Opinion Physician for NFL and NFL Players' Association
Professional Memberships:
American Academy of Orthopaedic Surgeons (AAOS)
Arthroscopy Association of North America (AANA)
American Orthopaedic Society for Sports Medicine (AOSSM)
Association of Bone and Joint Surgeons (ABJS)
International Society of Hip Arthroscopy (ISHA)
American Association of Hip and Knee Surgeons (AAHKS)
Visit www.benjamindombmd.com for more information.