Got my Hip Back, thanks to Dr. Ajay Lall !!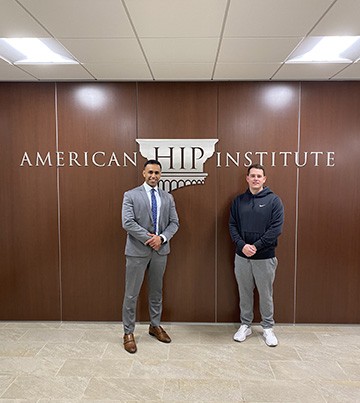 - Nik Todorovic
Before coming to the American Hip Institute, I had been dealing with hip pain for over a year: and the pain was especially bad with activities such as squatting and golfing. When I was out on the golf course struggling to turn through the ball, my dad even told me "You're only 21 years old, you shouldn't be having these issues". My uncle recommended Dr. Ajay Lall as the best hip doctor around, so I called for an appointment.
When I came in for my appointment with Dr Lall, he ordered an X-ray and immediately recognized that something was wrong with my hip. He diagnosed me with a bone cyst in the neck of the hip and only a small amount of bone support remained – meaning I was one wrong step away from needing a total hip replacement. Of course, I was as shocked as anyone would be to learn that they needed surgery out of the blue like that. However, due to the positive experience my uncle had here, as well as the patient reviews of Dr Lall I had read online, I was confident he was a true expert in his field and trusted his opinion. I received an extremely thorough explanation of the type of minimally-invasive procedure I needed, and his entire team managed to get me into the operating room that same week. I ended up having several dynamic screws placed to help stabilize the hip, and both hip preservation surgeries went perfectly.
Now, I am pain free and back to doing everything I was able to do before, including running and hiking, with even more flexibility! I'm even back to golfing with my dad, which is so important because it's something that we really enjoy doing together. I wouldn't be in the position I'm in now without the treatment I received at the American Hip Institute. Thanks for helping me get my life back, Dr Lall!!